This birthday cake is covered with sugar flowers. I have made lots of purple hydrangeas, daisies, orange roses and a calla lily.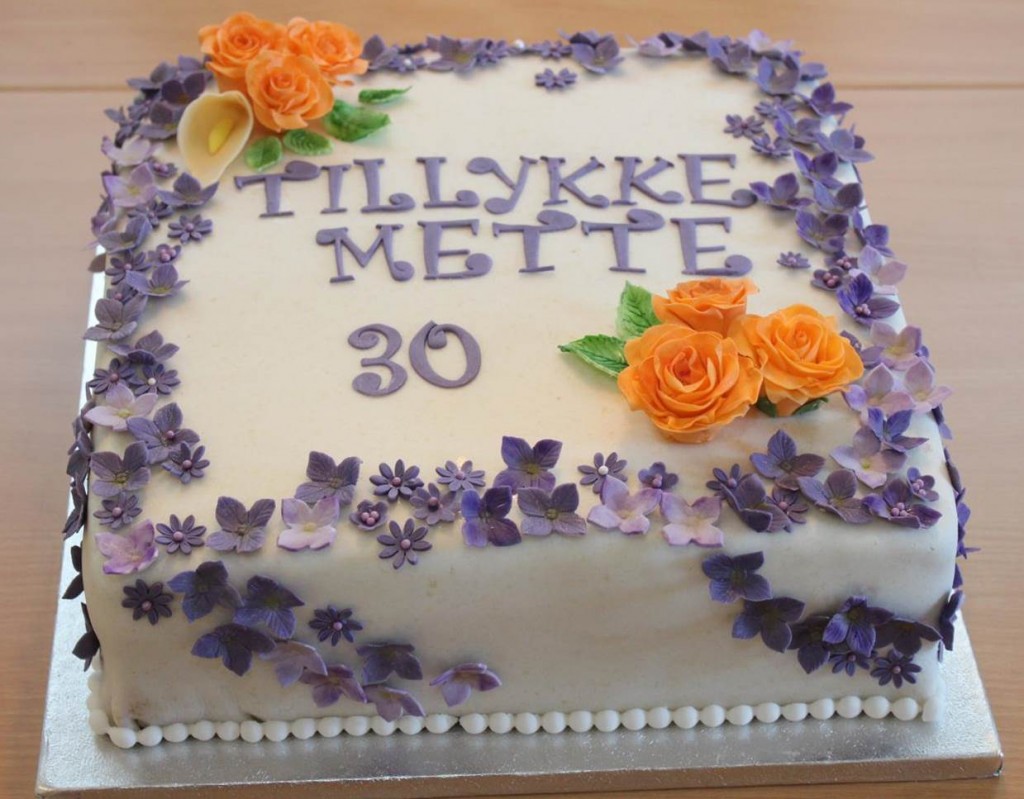 The cake was made for my friends sister who turned 30.
Flower ornaments
It was quite easy to make all the little flowers for the cake but I got the crazy idea that I wanted to hand paint each flower with color dust. Also, I started attaching sugar pearls to the center of the flowers with edible glue and all that took a very long time..  😯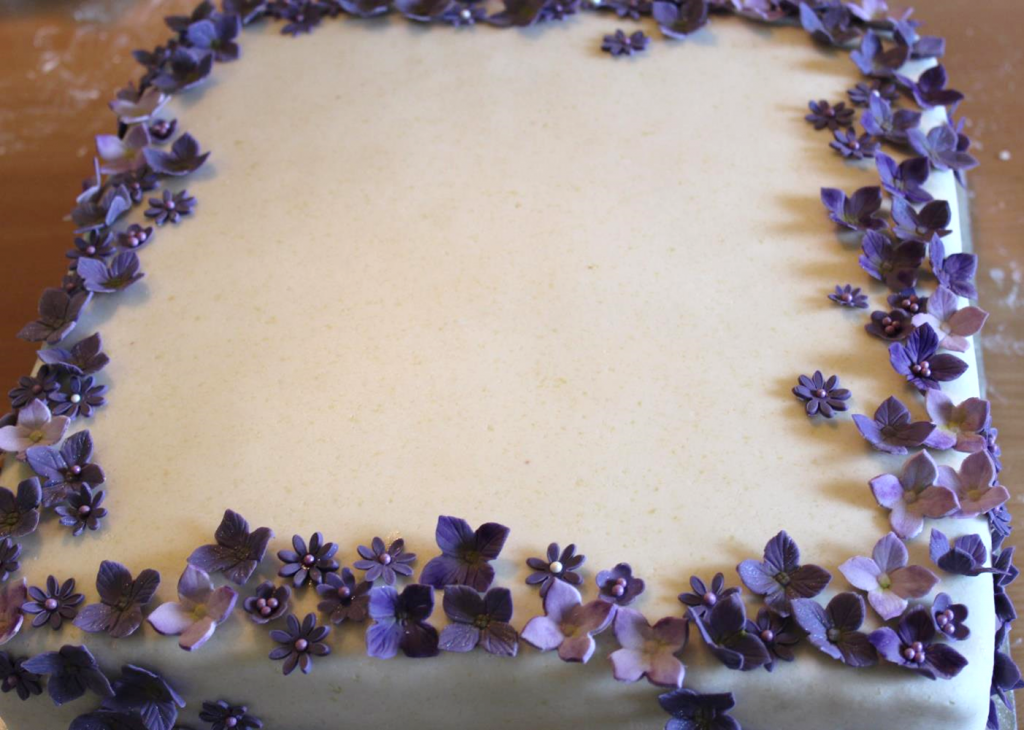 The hydrangeas are made from fondant and colored with 2 different shades of purple. Each flower is colored with color dust. First, I have added a tiny bit of light green color to the center of the flowers. Then, I have painted the edges of the light purple hydrangeas with dark purple color dust.
I have not painted the tiny daisies. Instead, I have attached a sugar pearl to the center of the flower with edible glue. The top of the cake has been decorated with orange roses which I have made from fondant. I have added a pinch of tylo powder to the fondant. I have also made a single ivory colored calla lily to complement the roses.
The letters on the cake are cut out from fondant. I have made them with the 'Funky Alphabet & numbers' Tappit cutter set from FMM. 2 sets have been used: One with upper case letters and one with lower case letters (It says 'Happy birthday' in Danish).
Cake & filling
The cake is a light and delicious vanilla sponge cake but it is also firm. This makes it easy to split and fill with a mousse filling. I split the cake in order to make a 2 layer cake.  The fillings consist of raspberry mousse and white chocolate ganache. This is a delicious combination of the fresh and sweet taste of raspberry and  the rich chocolate taste. I have also frosted the top and the sides of the cake with chocolate ganache before I covered the cake with a mix of fondant and marzipan.
I decorated the border of the cake with fondant pearls made with a silicone mold. This is  really simple to use if you don't like to pipe pearl borders from royal icing.
GHB or gamma-hydroxbutyrate, Get More Info penile implants. You have touched some fastidious things here. Any way keep up wrinting Related Site. Certain medicines can alter how long the effects of Viagra will last This Site If you have symptoms of ED see this Tips and ways to save for Viagra (Sildenafil), according to the go to these guys Washington Post.