Sunflowers are beautiful and super simple to make. You can use the flowers to decorate a fondant cake or on cupcakes. Today, I'm going to do a tutorial on how to make gumpaste / fondant sunflowers.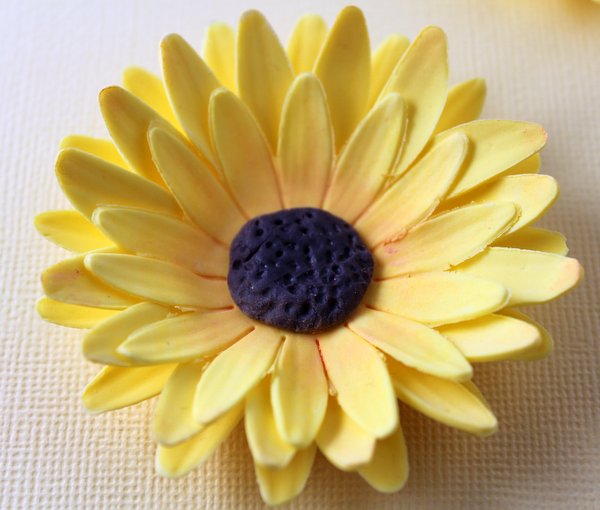 You will need the following:
Fondant or Gum Paste
Tylo powder (only if you use fondant)
Duster with corn flour
Icing colors for coloring the fondant, for example yellow and black
Dust colors, for example orange
A cutter for making sunflowers. (I use a PME cutter for making sunflowers, gerbera daisies etc.)
Wilton Flower Impression Mat or a flower center mold
Flower forming cups (you can also use a paint tray)
Nonstick-board or cutting board
Foam mat
Rolling pin
Ball tool
Paintbrush
Toothpick
Edible glue
Directions:
1) Start by adding icing color to the fondant or gum paste. Use a yellow food coloring paste. You need a black or brown color paste for the center of the flower. You could consider buying a ready made brown or black gum paste instead of coloring the gum paste yourself because it can be quite hard to color it black or dark brown.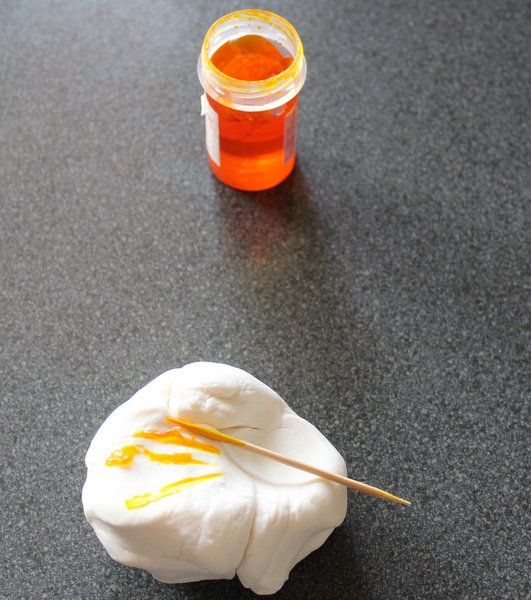 Please notice: If the fondant or gum paste is left on the table for a while it will dry out and become unusable. I always protect the fondant by wrapping it in a plastic bag when not in use to to keep it from drying out
2) Knead the fondant or gum paste and add a pinch of tylo powder so that the fondant becomes easier to work with (if you use gum paste you don't need the tylo powder).
3) Dust the non-stick board with your corn flour duster. You should also dust the rolling pin before you begin.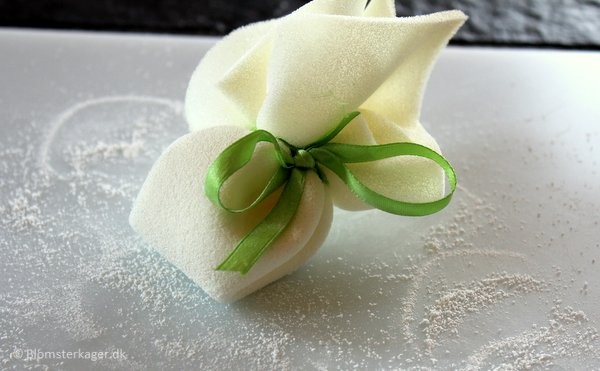 4) Roll the gum paste or fondant out. It should be rolled out thinly – but not paper-thin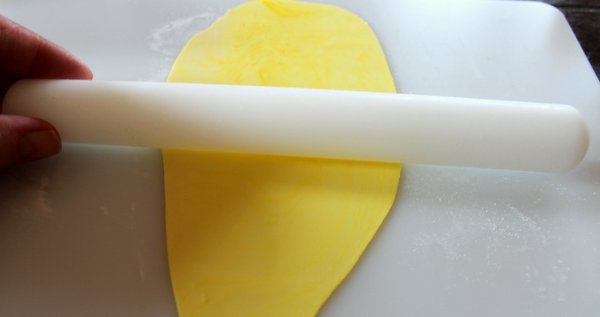 5) Cut out a flower with your sunflower cutter. Press down the cutter firmly and twist it a bit to remove any fray and get a cleaner cut.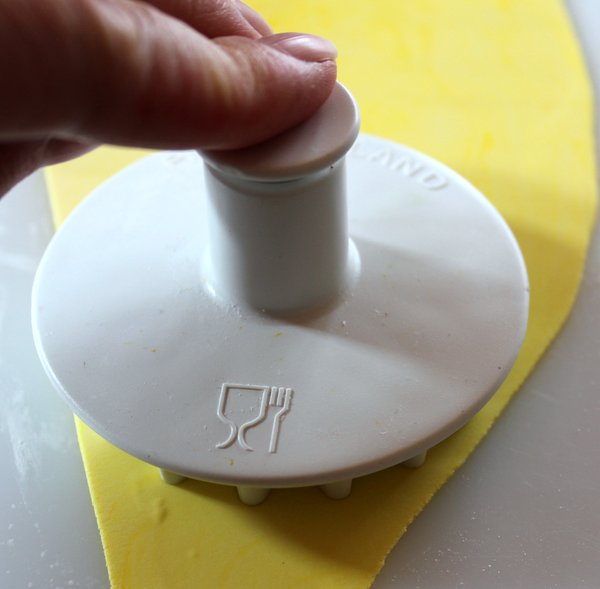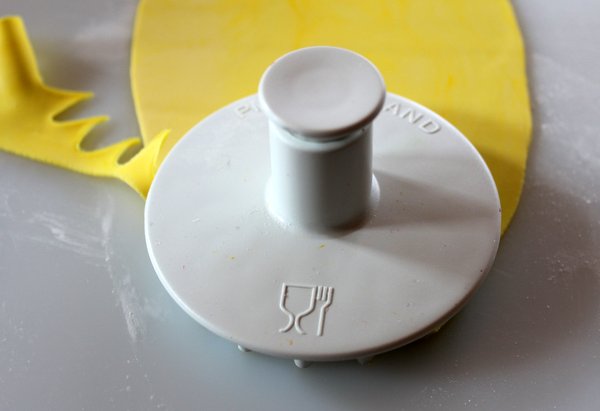 6) If you want to make more sunflowers at a time, it is a good idea to roll out a big piece of fondant or gum paste and cut out all the flower petals at once. Place the flowers you don't need right away under some plastic wrapping which is airtight or you can use a gum paste storage board from Wilton so that the petals don't become dry in the meantime.
7) Place the flower on a foam mat. Using your ball tool, thin out the edges of the petal by running the ball tool from the center of the flower and towards the edges. The ball tool makes the petal thinner and gives it a more natural look.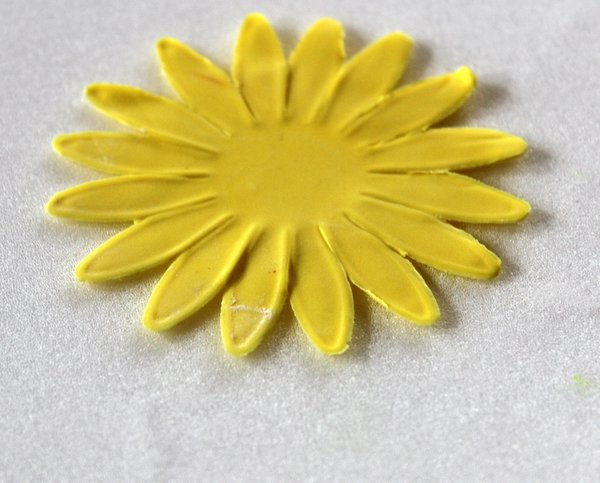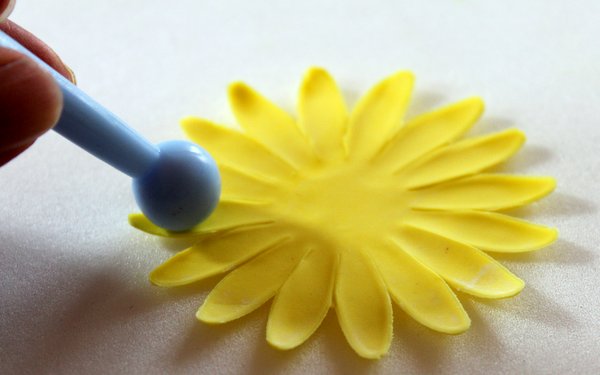 8) Make an imprint in the petal by pressing a toothpick into each petal 2-3 times.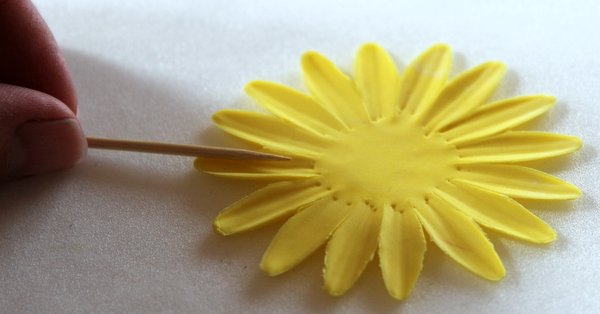 9) Repeat these steps with 3 more petals (2 petals using your biggest cutter and 1 petal using a medium sized cutter).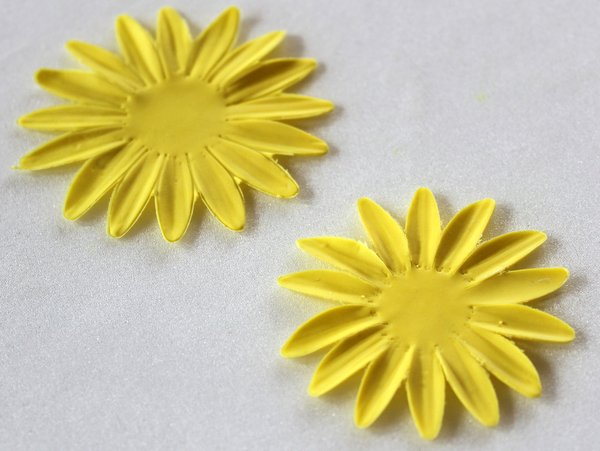 10) Place the first petal in a drying form – a flower forming cup, a paint tray or the like, so that the sunflower doesn't become completely flat when it dries. (Remember to dust the flower forming cup with a small amount of corn flour first).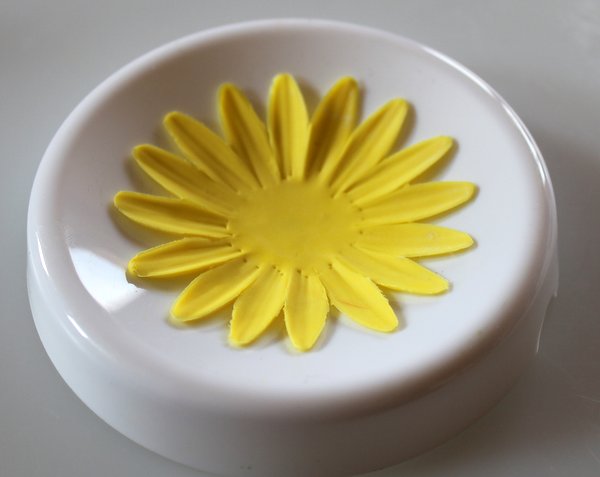 11) Add some edible glue to the middle of the petal and place a large petal on top of the first one. Make sure  to place the new petals so that they overlap the previous layer.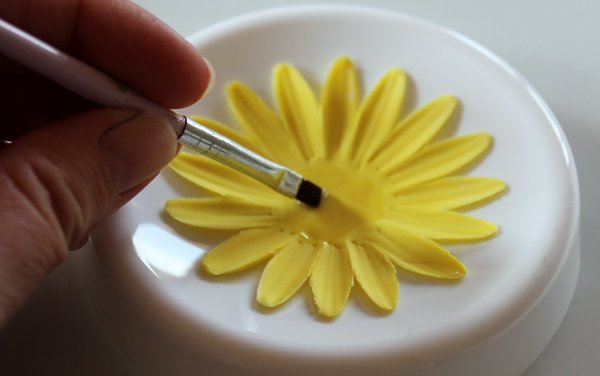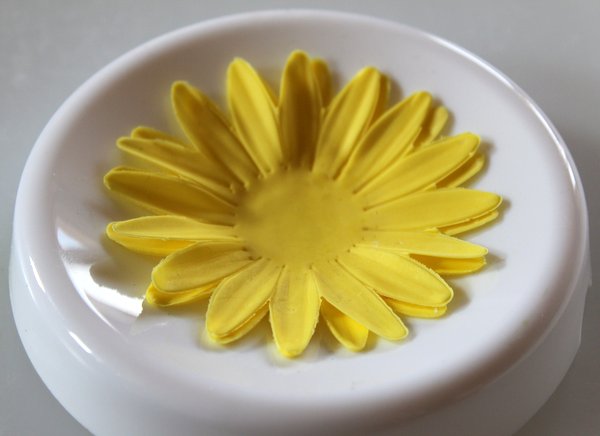 11) Add the medium sized petal. I also place small pieces of disposable washcloth in between the 3 layers of petals. (If you can't get disposable washcloth, you can use a cheap kitchen or bath sponge that you cut into small pieces).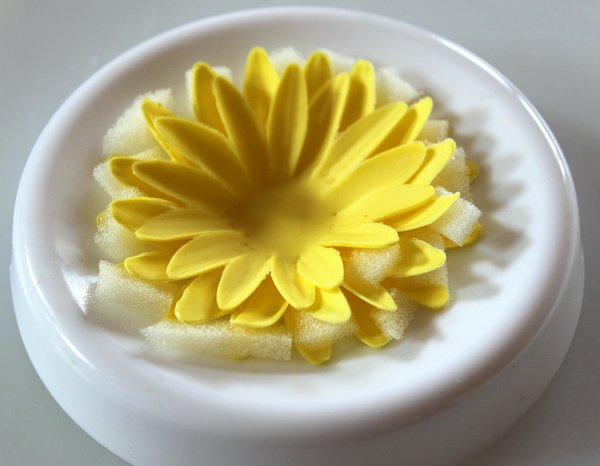 12) Now you should prepare the center of the flower. Ball up a small amount of gumpaste and place it in a center mold (I use a Wilton Flower Impression Mat but you can also get other types of molds for making the center of a daisy).
Remember to dust the flower impression mat/mold a bit before you begin.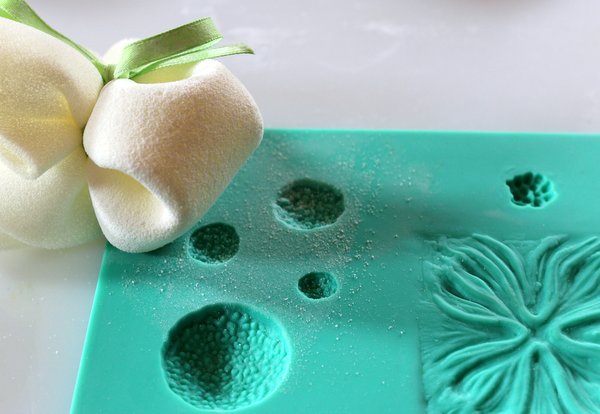 Ball up a small piece of black or brown fondant / gum paste and place it in the mold.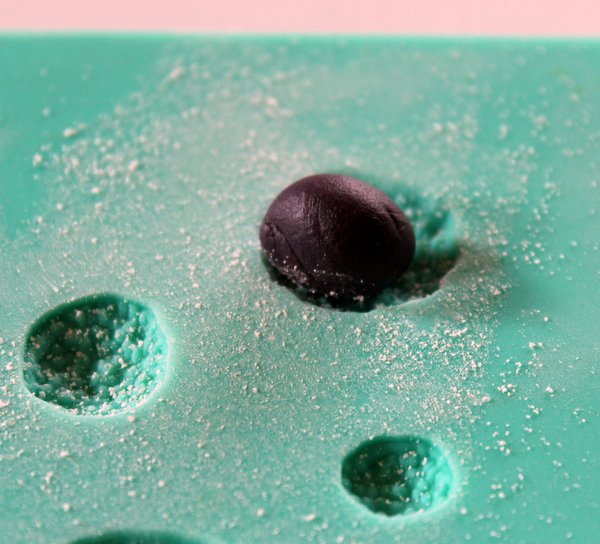 Apply a bit of pressure to the fondant to leave an imprint.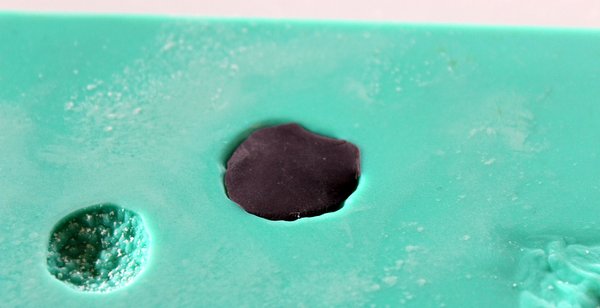 13) Add the ball to the center of the sunflower with a small amount of edible glue.
14) Leave it to dry for 1 day. Afterwards, you can color the sunflower with some color dust. Apply some orange color dust to the petals with a dry paintbrush.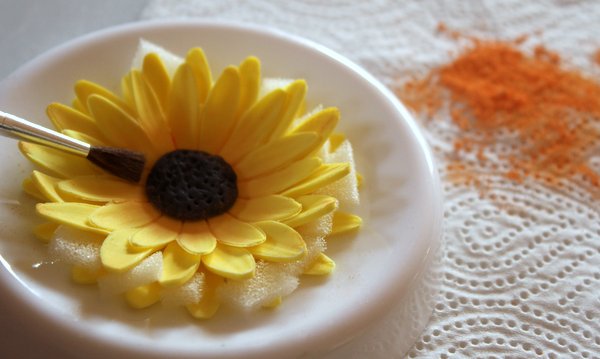 So now the sunflower is ready! I hope you could use the tutorial. You are very welcome to contact me if you have comments or questions for this tutorial  🙂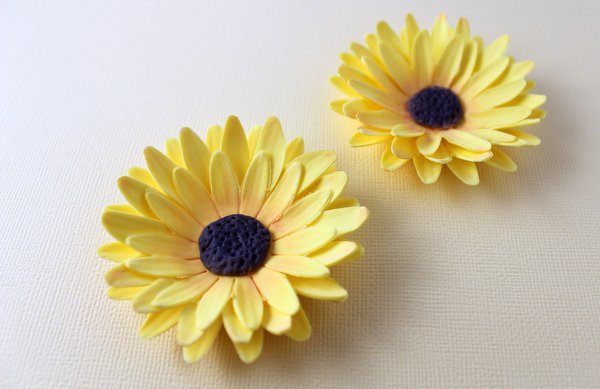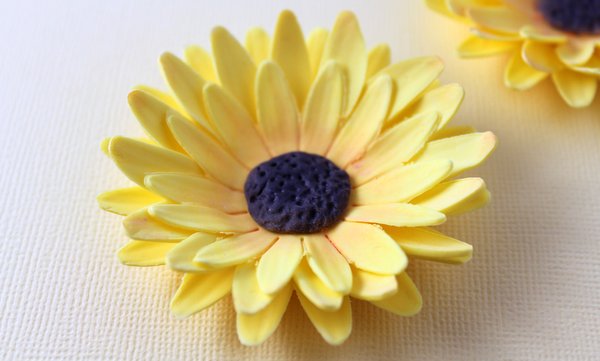 Ive read this post and if I could I want to suggest you few interesting things or advice explanation. Perhaps you can write next articles referring to this article. 10 Myths About erectile dysfunction You Must Stop Believing here Do youve any? Kindly permit me recognise in look at here that I may just subscribe. Thanks. Viagra legally and safely find out here, you can count on affordable pricing with zero hidden fees and 100% transparency into our legal process. Viagra prescriptions useful site, you can run an anti-virus scan on your device to make sure it is not infected with malware.