Tasty cupcakes with vanilla flavor and a raspberry filling. I have decorated them with sugar lace, sugar pearls and fondant flowers.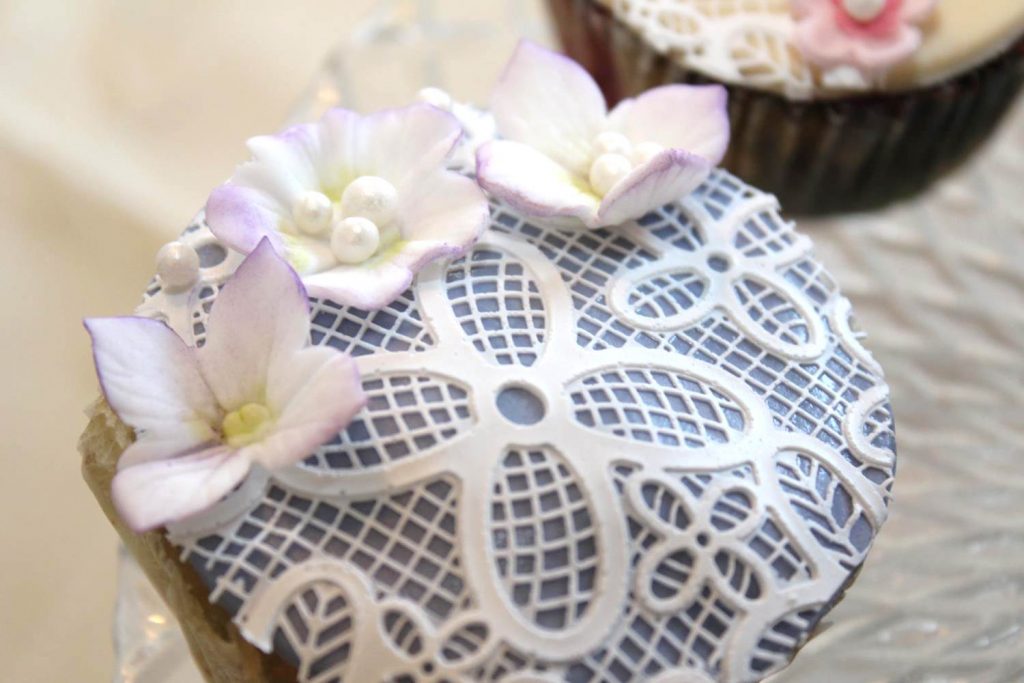 During the weekend, we went on a picnic with family and friends. Besides the mandatory barbecue, I thought that there should be something for the sweet tooth afterwards. However, it also had to be simple to bring and these cupcakes were really easy to make and take with us.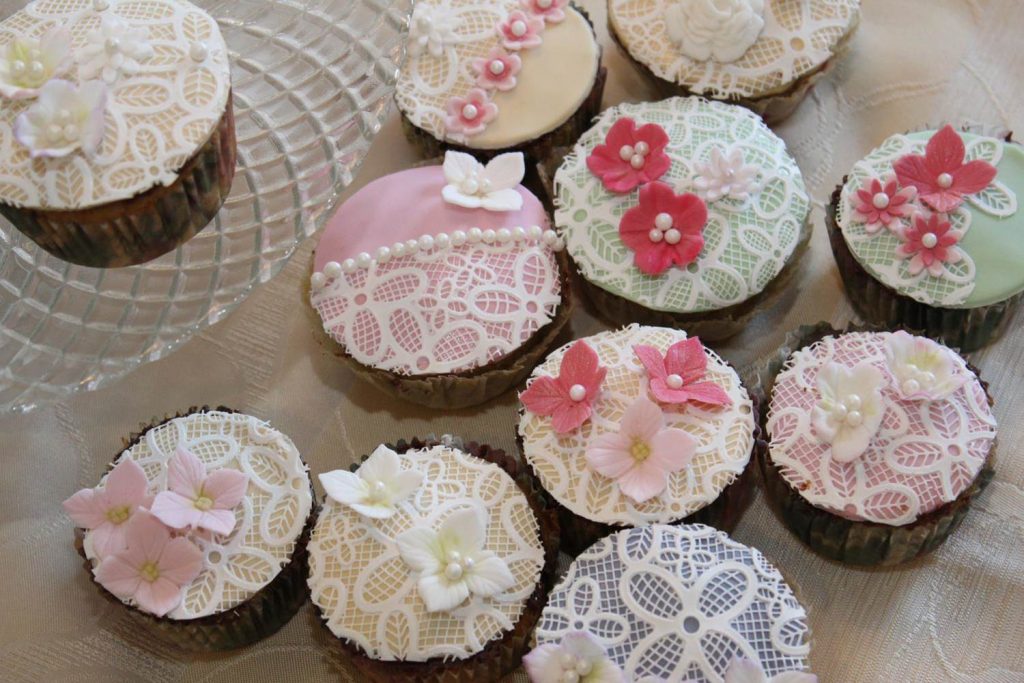 I have used a basic vanilla cupcake recipe which I found on Sallys Baking Addiction. Raspberries are the perfect filling as they make the cupcakes extra moist. See the recipe at the bottom of the post.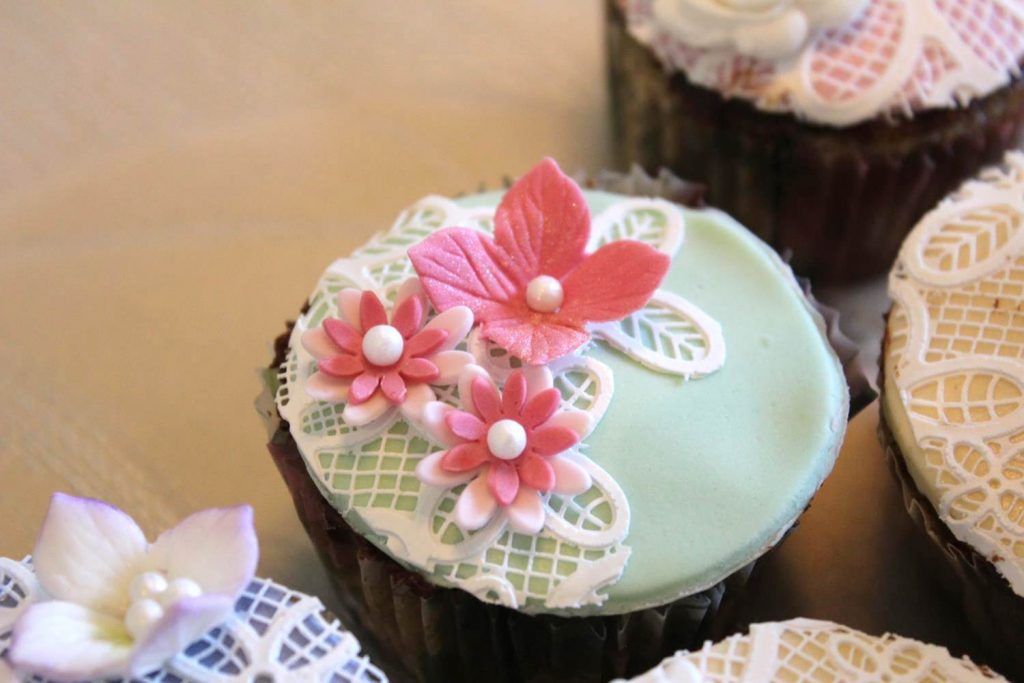 Decoration
You can decorate your cupcakes with buttercream but I have chosen to cover them with chocolate ganache and place a lid of fondant on top.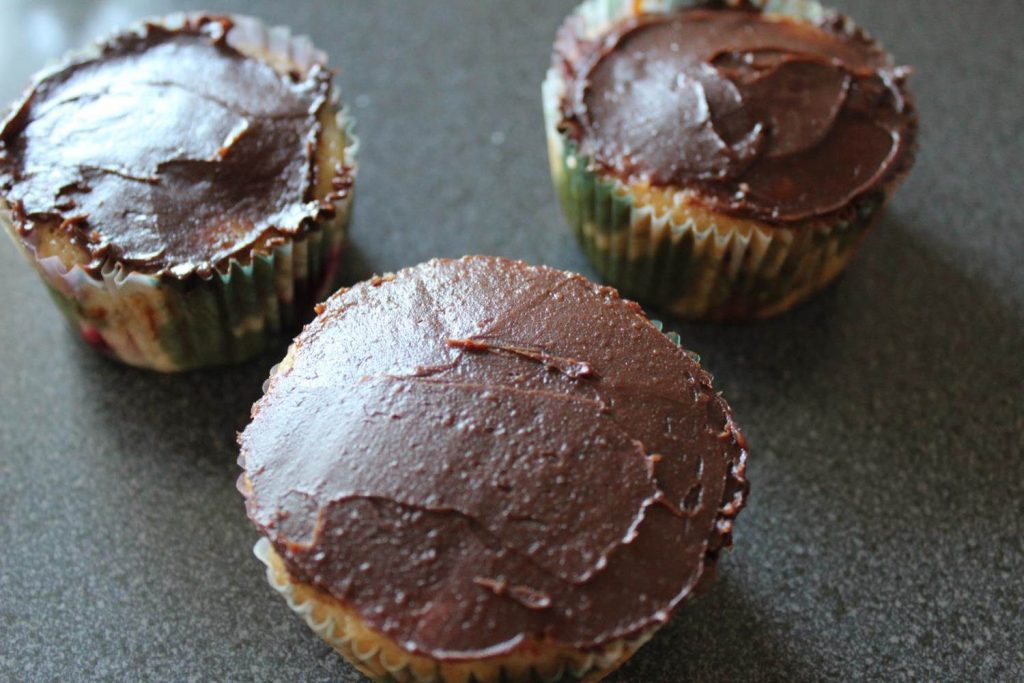 Now that they are covered in chocolate ganache I place a lid of fondant on top:

Sugar lace
The sugar laces are made from a premade mix (cake lace) which you simply buy and whisk together – it's that easy!  You apply it to a dry silicone mat with a rubber spatula. Remove any excess. Afterwards, it needs to set for 6-8 hours or you can put it in the oven on 70 C  / 158 F for approx. 10-12 minutes. I thought that the sugar laces looked complicated before I started but it's actually really simple to make.
When the laces are completely set, you carefully pull them from the silicone mat. Afterwards you cut them the same size as your cupcake lid and attach them to the lid with a bit of water. The taste is a tad sweet but pretty neutral and it's a bit like eating cotton candy as it dissolves very quickly when you put it in your mouth.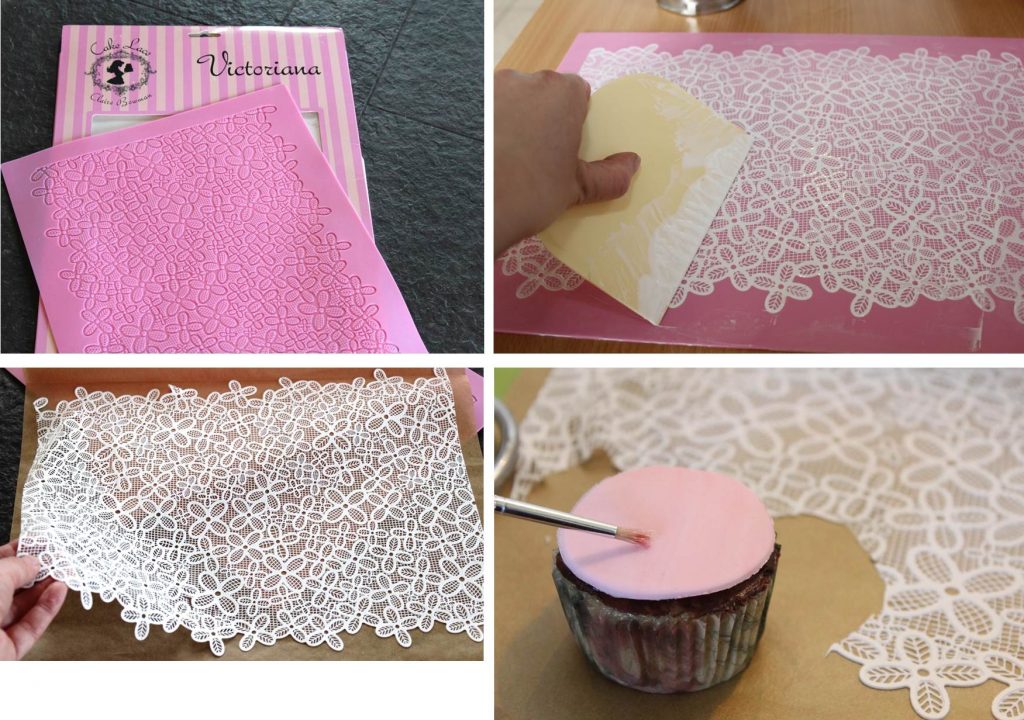 The fondant flowers are made with cutters for hydrangeas and other small fondant flowers.  Afterwards, I've dusted the flowers with a bit of edible color dust and attached the sugar pearls with edible glue. See this tutorial if you want to know how to make a fondant flower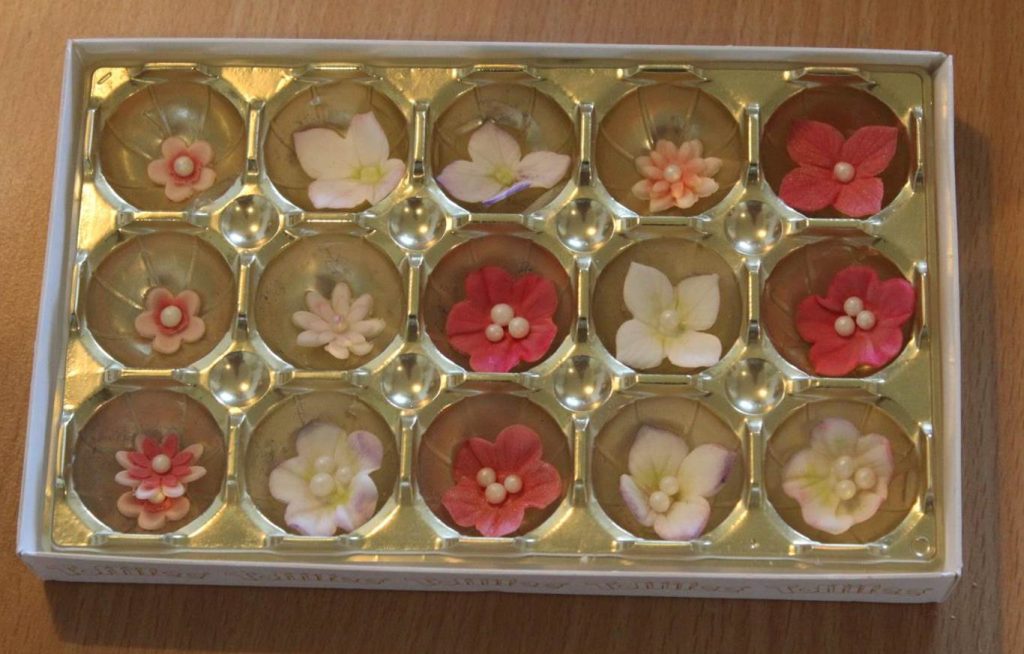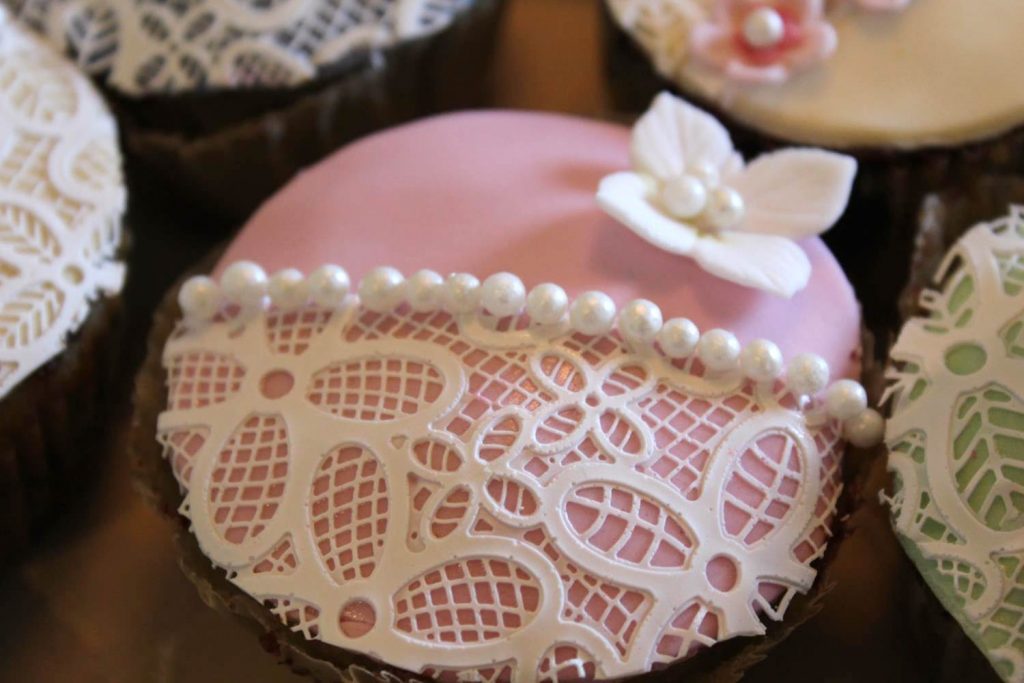 And then I was ready for the picnic. The cupcakes were eaten while we enjoyed this wonderful view.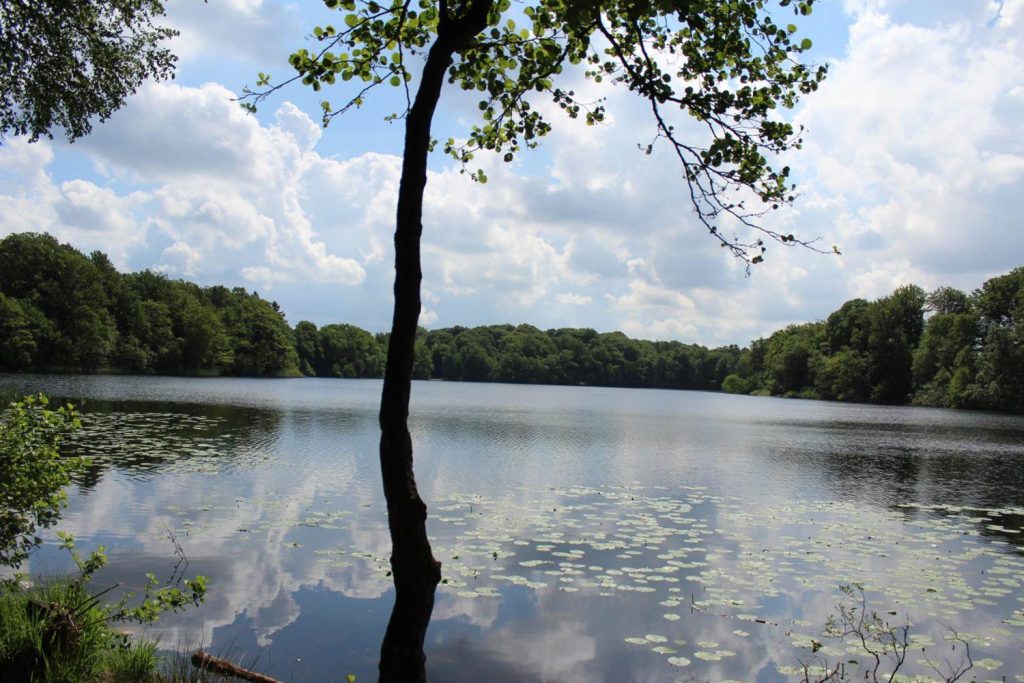 Cupcakes with sugar lace
Author:
Sally's baking addiction
Serves: 14 cupcakes. These cupcakes are super tasty.
Ingredients
210 g (1 and ⅔ cup) flour (remember to measure precisely),
½ teaspoon baking powder
½ teaspoon baking soda
½ teaspoon of salt
115 grams (1/2 cup) of unsalted butter, melted
100 g. (1/2 cup) white sugar
100 g. (1/2 cup) brown sugar
1 large egg
62 g. (1/4 cup) yoghurt or sour cream (Greek or neutral yoghurt is fine)
180 ml. (3/4 cup) milk
2 teaspoons vanilla flavored sugar
2 teaspoons of lemon zest (organic)
150 grams of fresh or frozen raspberries (they do not have to thaw before you use them)
Instructions
Preheat the oven to 175 C / 350 F.
Line muffin pan with cupcake liners.
Mix together flour, baking powder, baking soda and salt in a big bowl.
Melt the butter in a casserole and add the brown sugar. Whisk it together. The mix should be thick.
Whisk the egg, yoghurt, milk, vanilla, white sugar and lemon zest thoroughly together. It is a good idea to use a stand mixer.
Carefully mix wet ingredients together with the dry ingredients.
Add the raspberries and stir them carefully into the batter.
Divide the batter into the 14 muffin cups. (You have to bake them in 2 steps if you use a 12-count muffin pan).
Bake for 20-22 minutes or until a toothpick inserted comes out clean
Let them to cool off completely before you decorate them.
(It takes about 45 minutes to make the cupcakes while the preparation of the decoration takes a couple of hours and the decoration itself takes about an hour.)