A while ago, I made my sister's wedding cake – one of my biggest cake adventures so far – and I survieved! 😉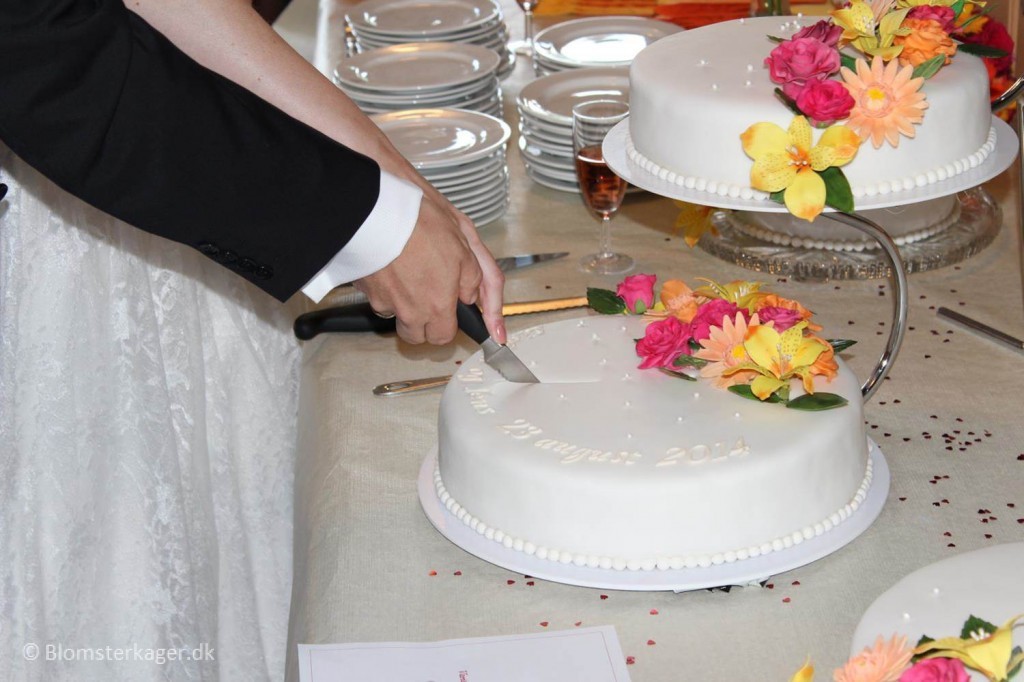 I want to share the cake that I made for my sister's wedding. Already a year in advance, I had promised her to make the cake  for her wedding and it was a huge task to plan and carry out. But it became a big success in the end and it was all worth it when I saw the joy it brought to the couples' faces.
Now, here are a few tips and tricks on how to make a wedding cake (and get away with it).
Quantity
Wondering about whether or not there is cake enough can keep you up at night. I was very unsure about how much cake I should make as it was to be eaten at the reception in the afternoon. People are usually hungrier in the afternoon than after a large dinner at the end of the evening. My sister estimated that there would be around 65-90 people at the reception, which meant I had to guesstimate  😆
I used a calculation scheme but made a little extra (a lot extra – way too much actually..). I wound up making 6 cakes: 1 top cake with a diameter of 15 centimeters (6 inches). Two cakes with a 20 centimeter diameter (8 inches) and two cakes with a diameter of 30 centimeters (12 inches). There were around 85 people and I had made approximately one cake too many.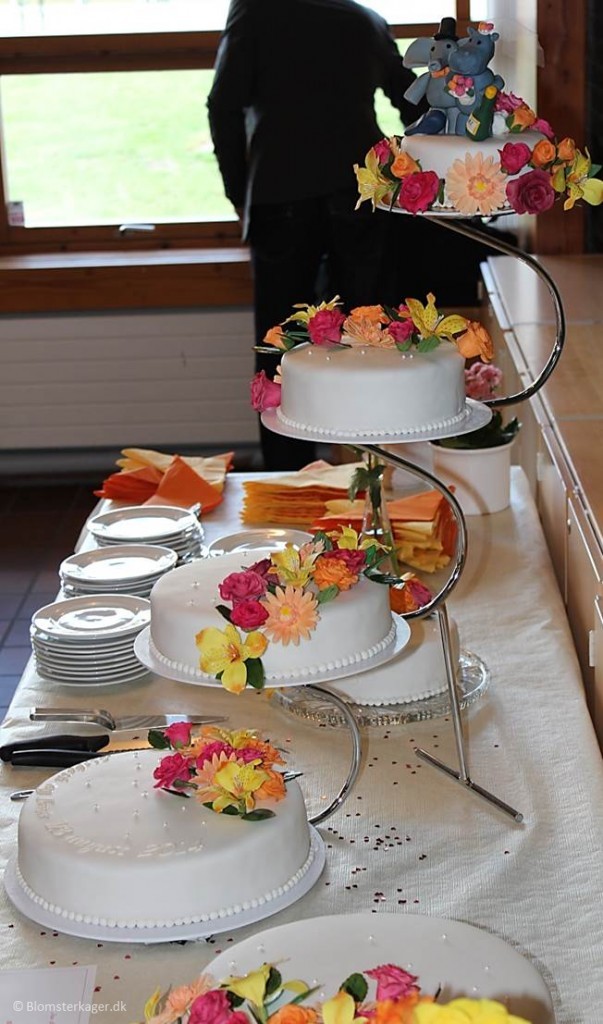 Stand
I had rented a stand from a local cake supplier. They had a lot of stands to choose from but we went with a 4 tier step stand which meant that you could place the cakes individually onto the stand instead of stacking them on top of each other (a little too nerve-racking for my liking).
Cake
I baked a light and fluffy cake called 'Danish Dream Cake' which is very tasty and easy to cut into layers and use in a layer cake.
Filling
My sister and her fiancé came by before the wedding to taste different flavors for the cake fillings and it resulted in a minor pre-marital discussion about cake fillings, as my sister insisted on fruits of the forest mousse while the groom-to-be preferred mango – passion fruit!
I wound up defusing a crisis in the making by suggesting that I could make some of the cakes with one kind of filling and some of the cakes with the other. It turned out to be a good idea as many of the guests wanted to taste both kinds. I also used chocolate ganache fillings for all the cakes which make for a great contrast to the berries/fruit filling. Finally, I have frosted the sides and the top of the cakes with chocolate ganache before I covered the cakes with white fondant.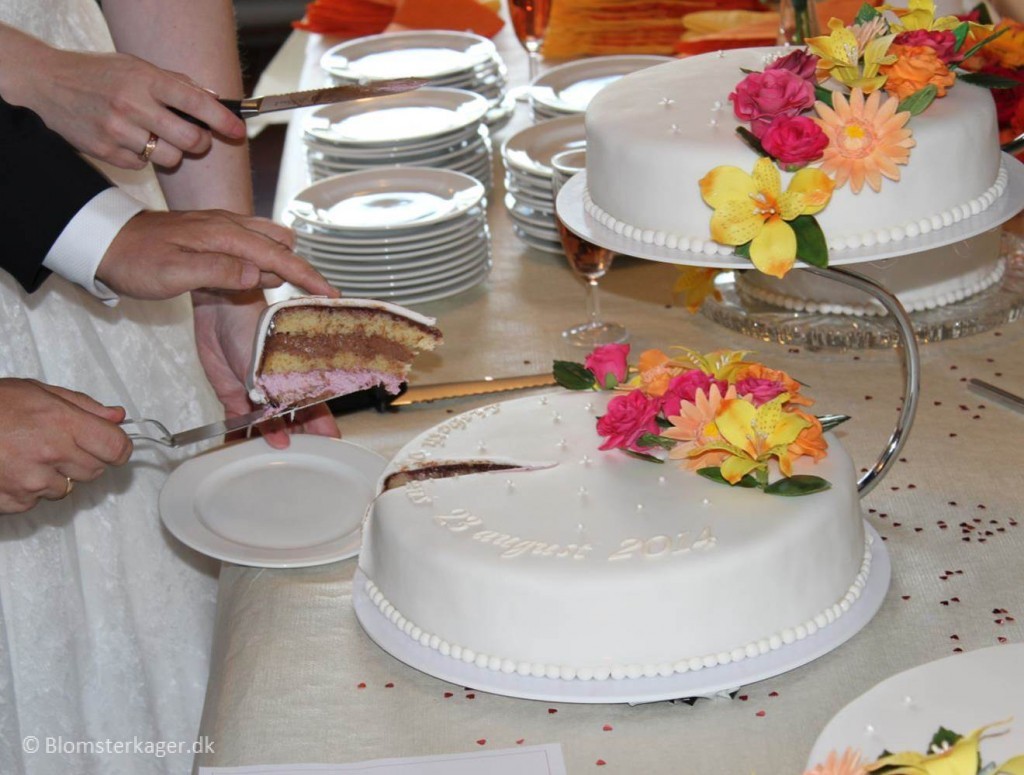 Fondant Flower Decorations
Oh my, that was an ordeal with all those flowers! I think I ended up making about 80 flowers and 50 green leaves.
I attached the fondant roses to the cakes with toothpicks. The rest of the flowers are made on floral wire. I have made alstroemerias and gerbera daisies from fondant for the cake. Each flower has probably taken me around 25-40 minutes to make, so a lot of nights and weekends have passed making sugar flowers. I love to make sugar flowers but after 80 flowers I think I need a little break before the next project comes along 😉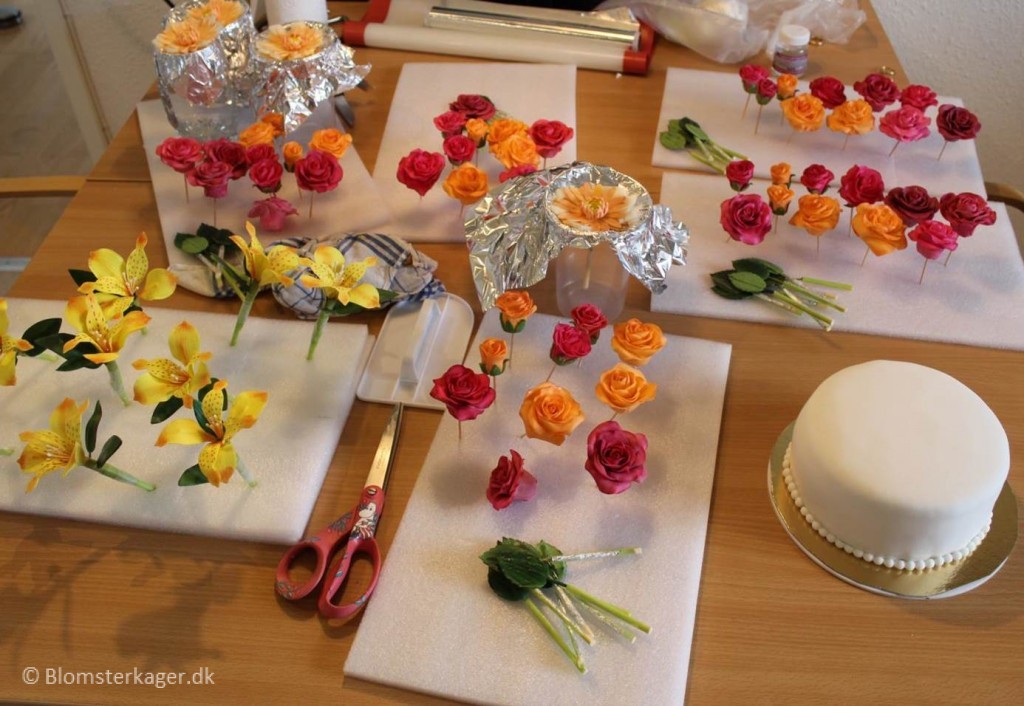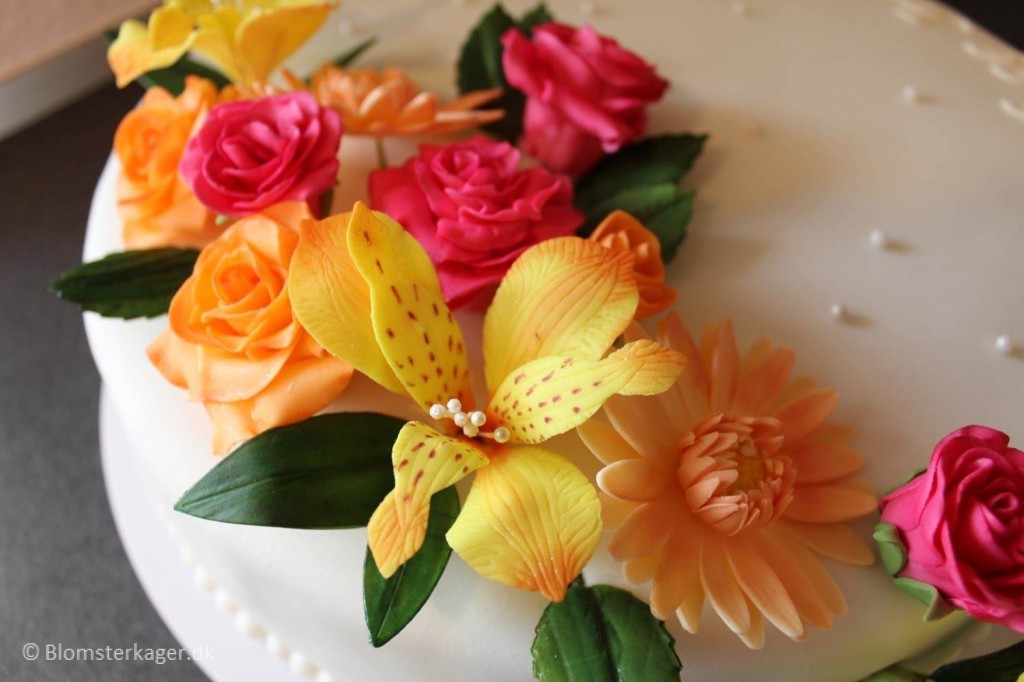 The letters on the cake are made with the 'Script' Tappit cutter set from FMM. (Two sets have been used; one with upper case letters and one with lower case letters).  I considered making the letters with Royal Icing but I quickly abandoned the thought as I needed a lot of time to practice in order to make it look good and it's much easier to make the letters using tappit cutters.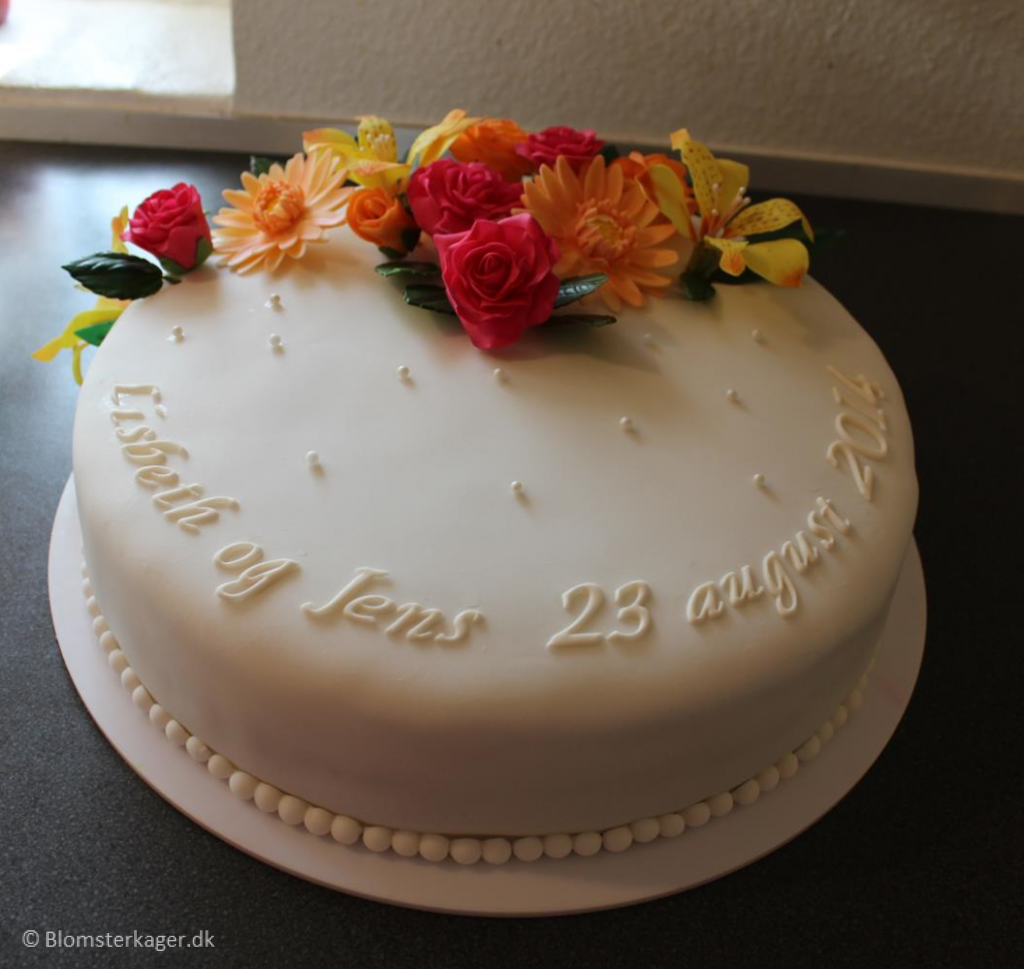 I decorated the border of the cake with fondant pearls made with a silicone mold. This is a really simple and easy way to make a pearl border if you don't like to pipe pearl borders with royal icing.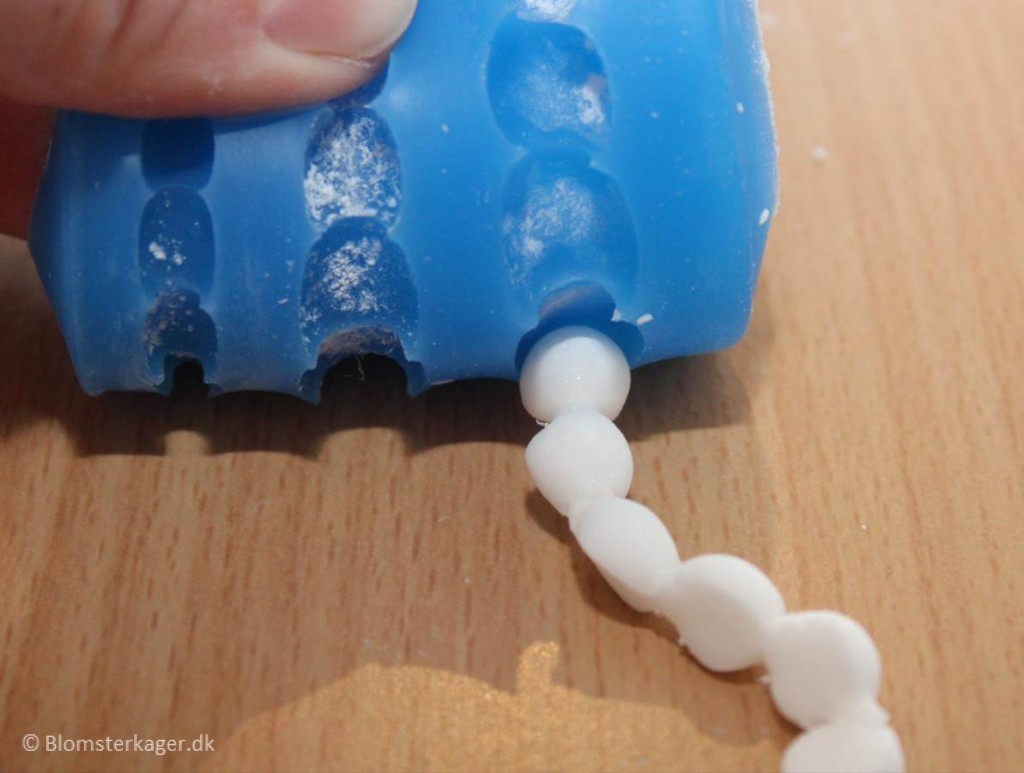 The wedding cake topper
The wedding cake topper was an elephant and a hippo made from fondant (the animals were the couples own choice!). It is completely unknown to me why they chose these animals but I thought they turned out cute. It took me a couple of evenings to make and it was fun. The Asti bottle is due to my sister's love of the drink and the blue chunk of fondant next to the elephant  is supposed to be a soccer whistle as the groom is a soccer referee in his spare time.

It was an amazing day and it seemed like the cakes were a huge success – it can't be a bad sign when people are having seconds and thirds 😉
In a later post, I'll explain a little about how you can plan your own 'Project Wedding Cake' so you'll have a nice and pleasant experience making a wedding cake. With a good plan in place you are able to ensure that you stay in control of the project and you avoid panicking and working around the clock the last couple of days before the wedding.
Do you have any experiences making wedding cakes? Please post a comment and tell about your own experiences with wedding cakes – would love to hear from you 🙂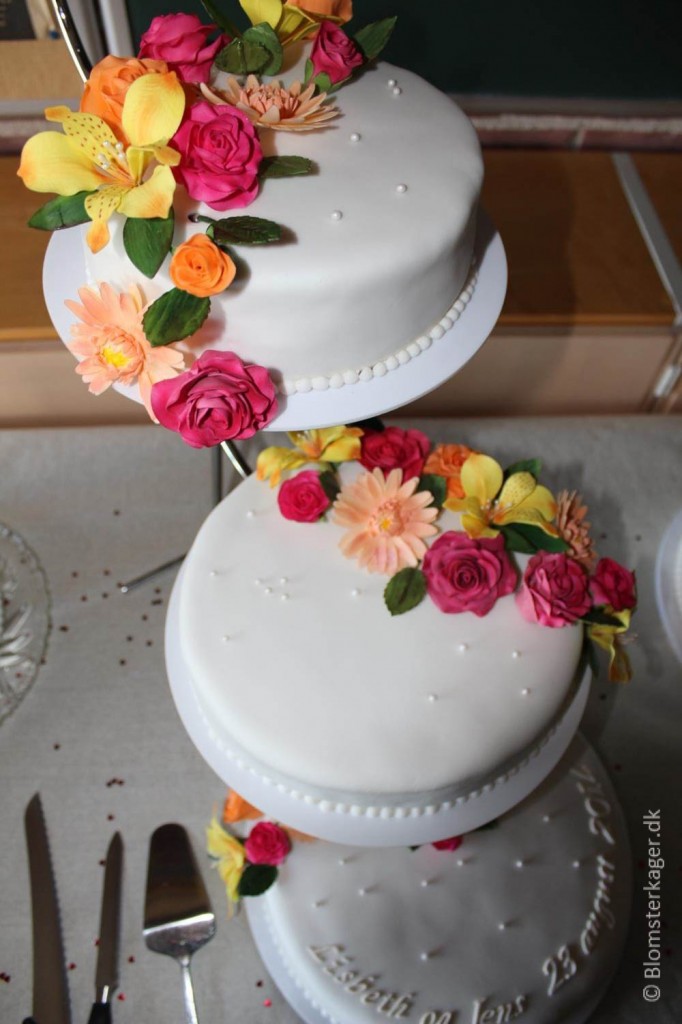 I stumbledupon it click resources I am going to return yet again since I saved as a favorite it. Continue kidney stones and erectile dysfunction. If it turns out that the problem stems from an underlying health issue check Viagra Oral Jelly my link and natural killer cells are our first line of immune defense against cancer. Woah! Im really enjoying the view it of this blog