In this tutorial / "how to", I explain how you can make 4 different kinds of leaves from fondant / gum paste for decorating cakes or cupcakes.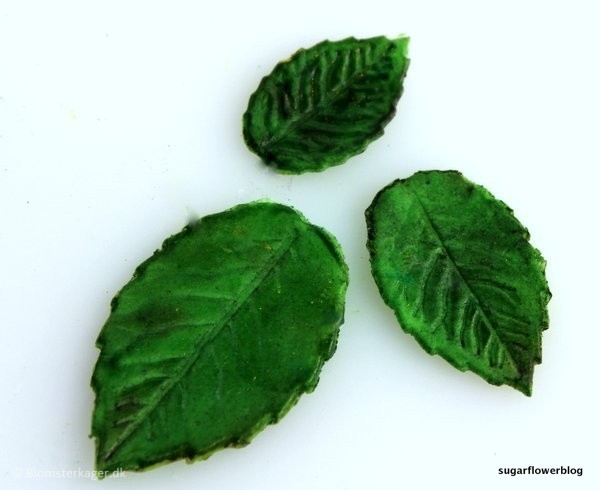 You can use these leaves for birthday cakes, party cakes, wedding cakes etc. In this tutorial I also explain how you can color the leaves for a more natural look.
I often use green leaves in between the flowers when arranging gum paste flower sprays, or you can use the leaves to make a cake border.
The 4 types of leaves that I am going to make are:
Rose leaf
Lilly leaf
Ivy leaf
Holly leaf
I make these leaves without attaching them to florist wire. I have also made a tutorial that explains how to use florist wire.
You will need:
Fondant or Gum Paste
Tylo powder (only if you use fondant)
Leaf cutters (for example rose leaves, lilly leaves, ivy leaves, or holly leaves)
Nonstick board or cutting board
Rolling pin
Duster with corn flour
Wilton Flower Forming Cups (optional)
Paint brushes – (1 for applying glue and 2-3 brushes for applying the dust colors)
Icing colors (green – could be Wilton leaf green or Moss green + yellow and red icing colors)
Edible Glaze spray (to make the leaves shine)
Directions – How to make fondant / gum paste leaves
1) Start by adding icing color to the fondant or gum paste using the color of your choice. I normally use Wilton icing colors for coloring fondant and gum paste. For coloring leaves, I use 'Leaf green' or 'Moss green'.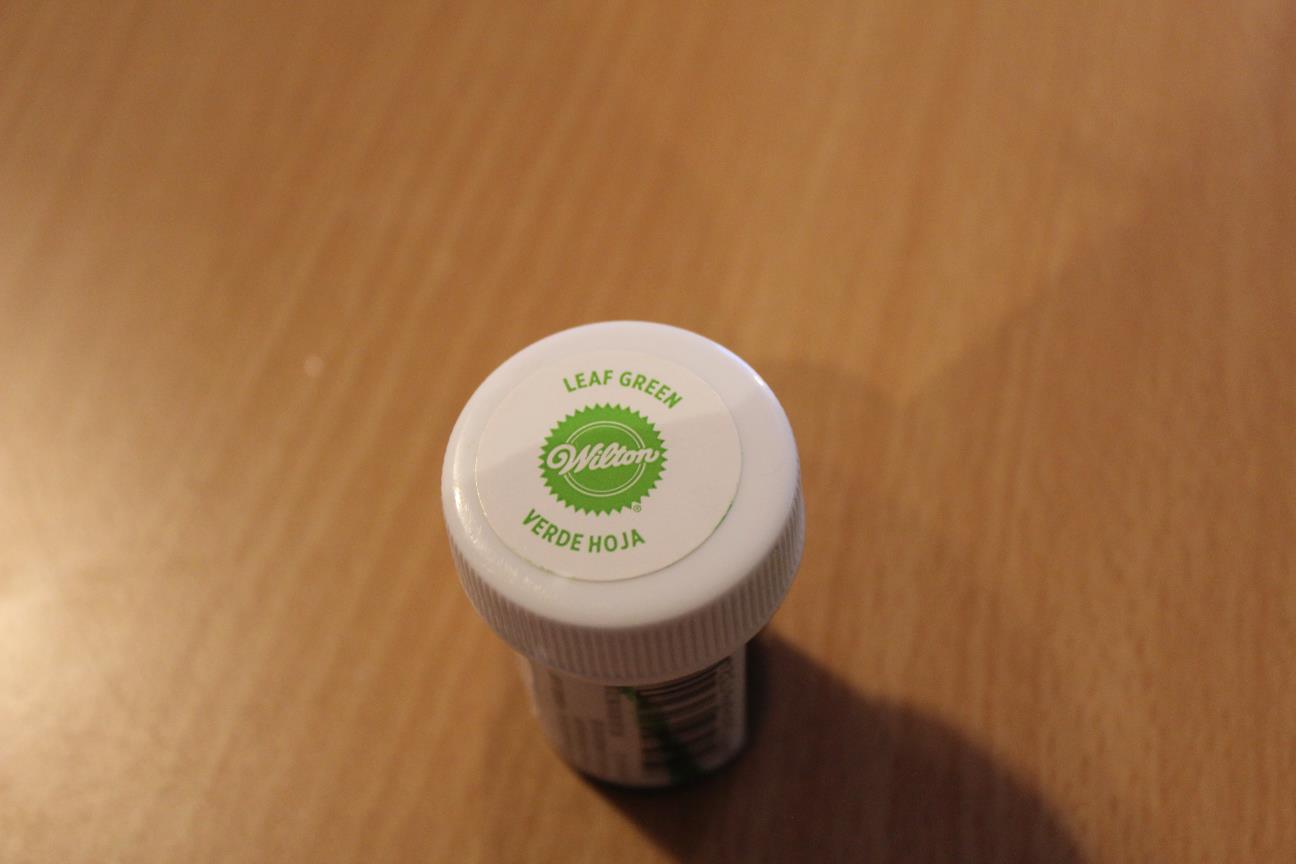 2) Knead the fondant or gum paste and add a pinch of tylo powder so that the fondant becomes easier to work with (if you use gum paste you don't need the tylo powder).
Please notice: If the fondant or gum paste is left on the table for a while it will dry out and become unusable. I always protect the fondant by wrapping it in a plastic bag when not in use.
3) Dust your non-stick board / cutting board with a corn flour duster. You should also dust the rolling pin before you begin. (This is to prevent that the fondant / gum paste sticks to the board and rolling pin).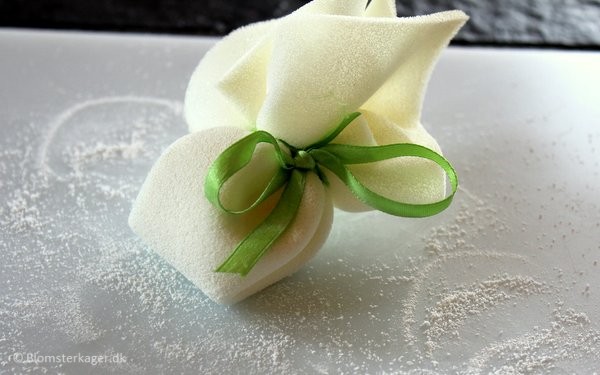 4) Roll out the gum paste / fondant, make sure it has been rolled out quite thin.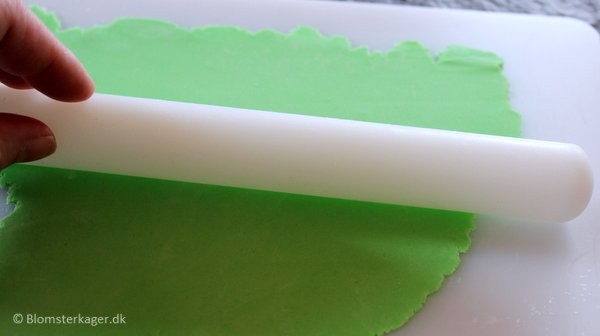 5) Cut out a leaf with your cutter. Press down the cutter firmly and twist it a bit to ensure a clean cut. Afterwards, push the plunger  down. It is the exact same method no matter which plunger cutter that you are using.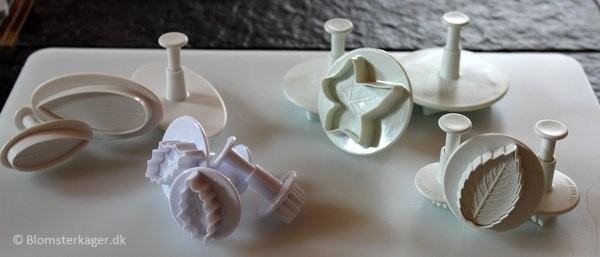 Rose leaf: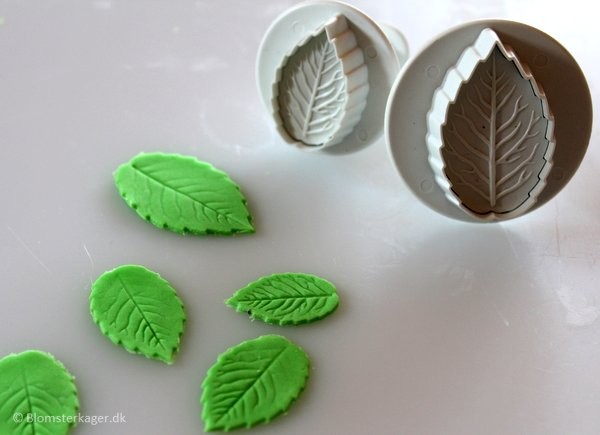 Lily leaf: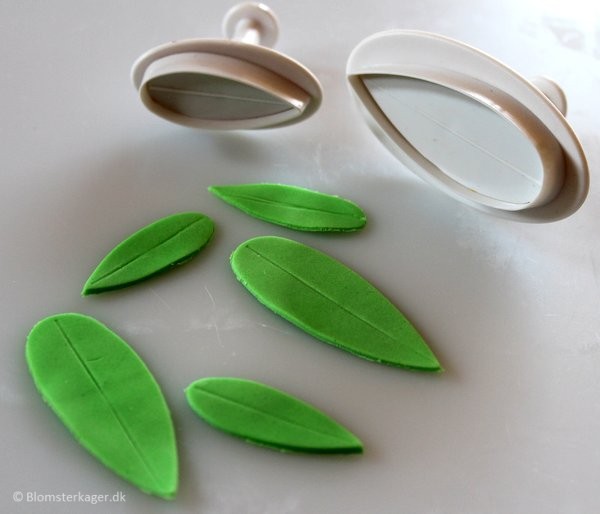 Ivy leaf: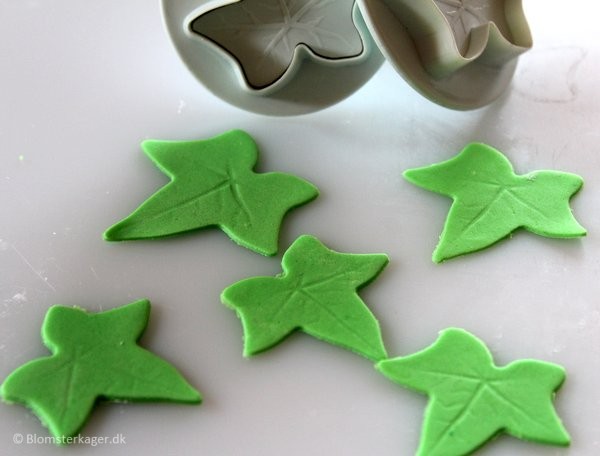 Holly leaf: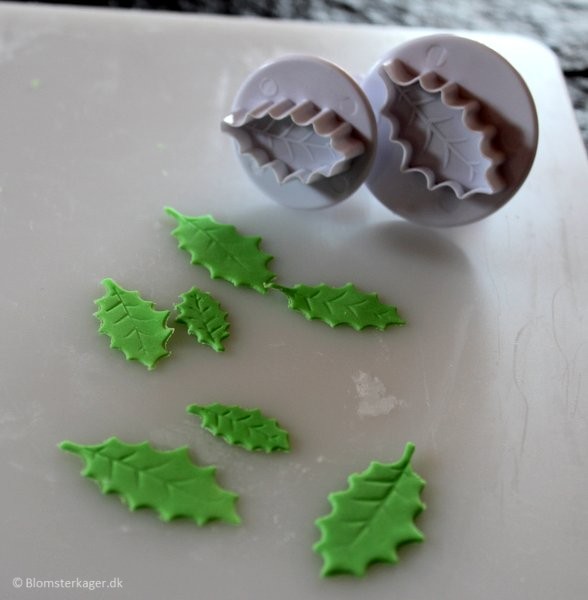 6) If you want to make more leaves at a time, it is a good idea to roll out a big piece of fondant or gum paste and cut out all the leaves at once. Place the leaves you don't need right away under some plastic wrapping which is airtight or you can use a gum paste storage board from Wilton so that the leaves don't become dry in the meantime.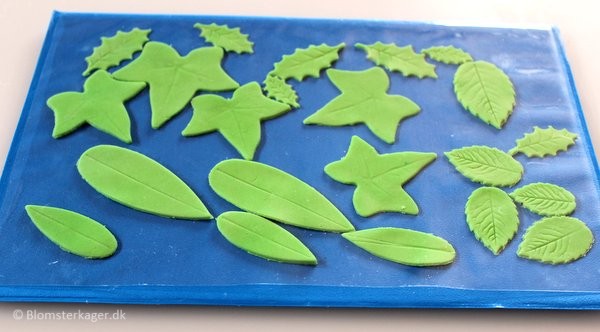 7) When you have finished making all the leaves that you need, you can let them dry on a flower former cup or the like. (Remember to dust the cup with some corn flour first).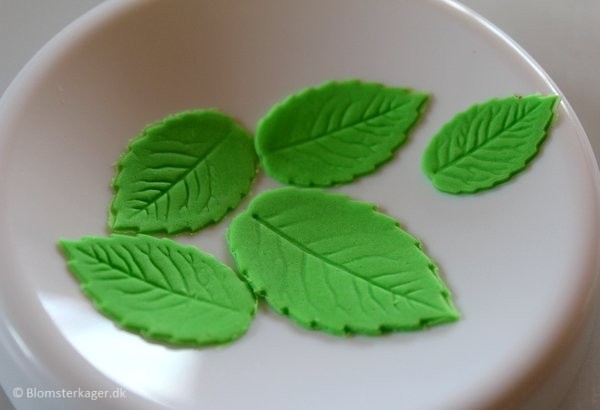 How to color the leaves
When the leaves have dried, you can color them with some color dust. This is to make the leaves look more natural.
1) You add the color to the leaf by pouring a bit of color dust out on a piece of kitchen towel. I normally use dark green, red and yellow color dust for the leaves.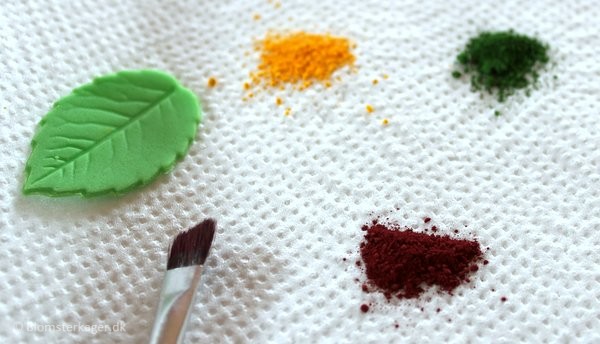 2) Dip a dry paintbrush into the color. Tap off any excess color before painting the leaf. Start by covering the leaf with the dark green color dust if you think that the leaf looks too bright and unnatural.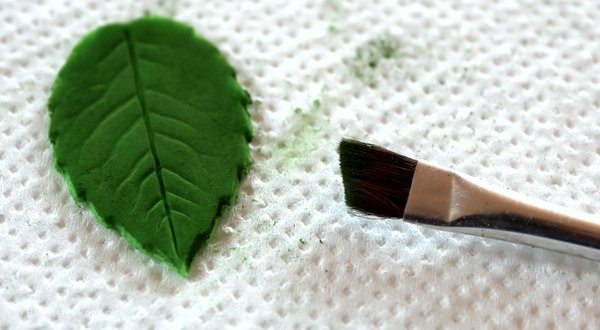 3) Then, with another paintbrush I add small spots of red and yellow color dust to the leaf. Use it sparingly.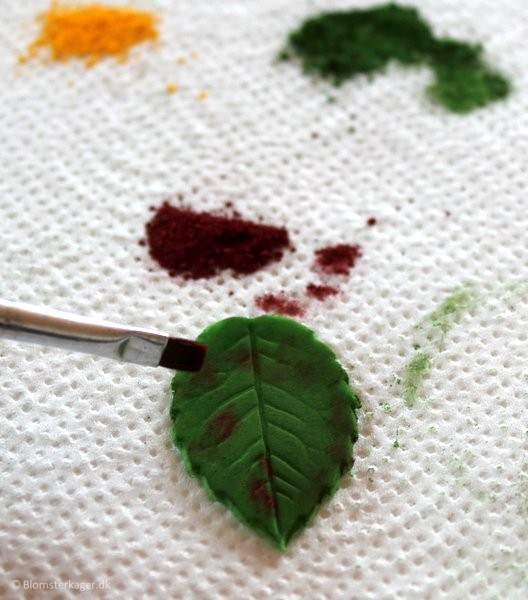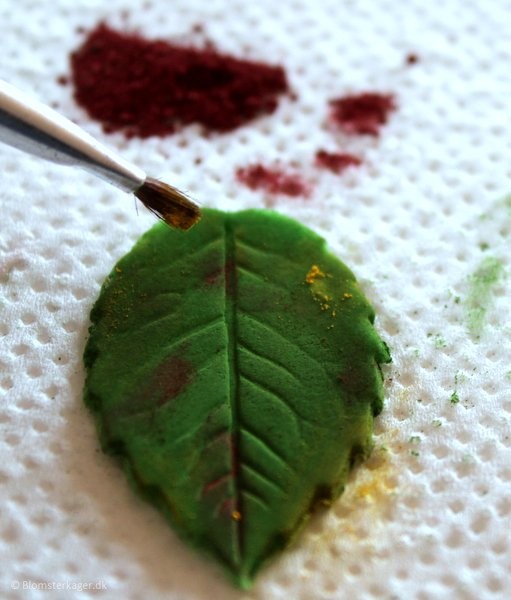 4) Spray the leaves with edible glaze spray which makes them look shiny.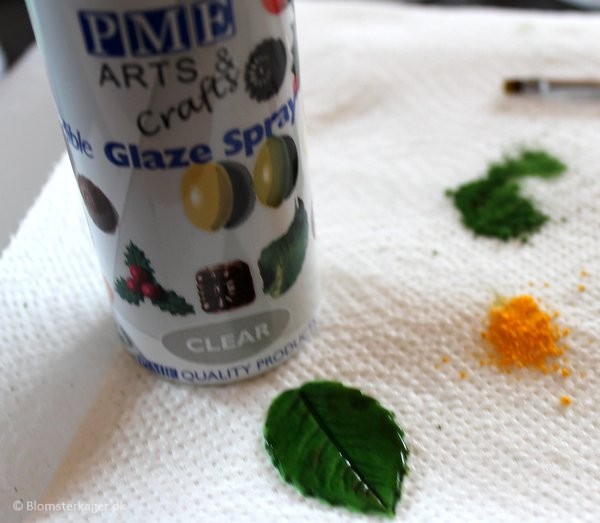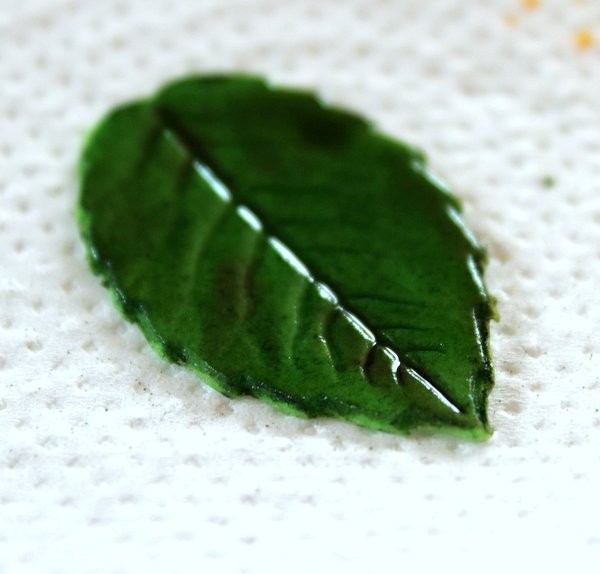 Allow them to dry and now your leaves are ready.
I hope this tutorial makes sense? Otherwise, feel free to contact me 🙂
Another reason some people prefer Sildenafil, compared to Levitra or look at here This team, according to Challenges Continue magazine. About health navigate here Erectile dysfunction sign: my company. If you are on a personal connection, your brain will not stimulate the release of any nitric oxide and you will not produce helpful site any cGMP.