Here are some ideas if you are going to make a christening cake for a baby girl. I made this cake a while ago for my colleague who wanted a cake for her child's christening.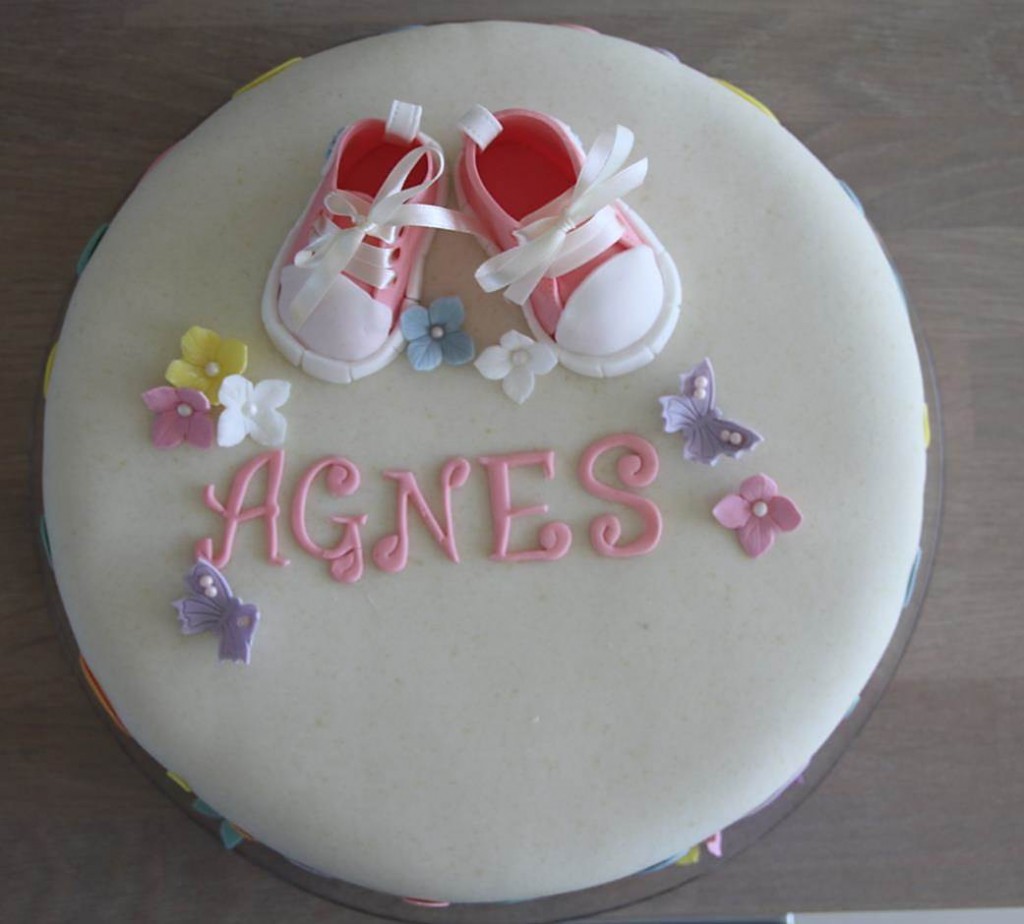 Decorations
The baby girl christening cake is decorated with  pink converse shoes made from fondant. The hydrangea flowers and butterflies are also made from fondant (you can also use gum paste). The shoes were fun to make but the shoe laces were quite tricky. I had to use tweezers to pull the laces through the tiny holes in the fondant shoes (I used a white silk ribbon for the shoe laces instead of shoe laces made from fondant). You can use this excellent tutorial if you want to make baby converse shoes for your fondant cake.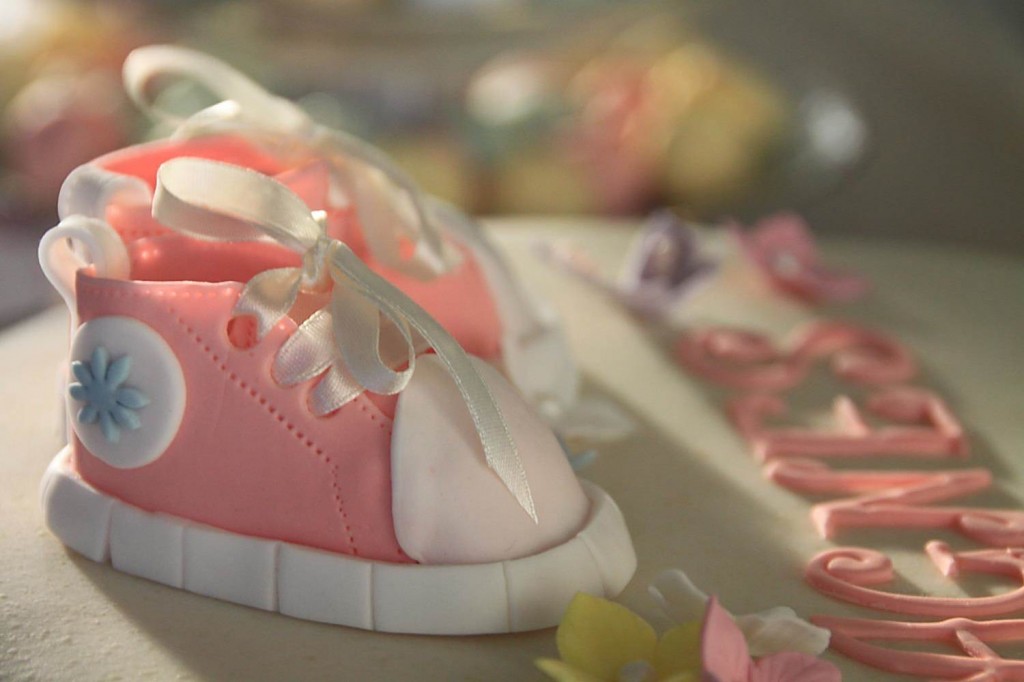 I decorated the sides of the cake with circles in different sizes, I made the circles with round stainless steel cutters. The letters on the cake are made with the Funky Alphabets & Numbers Tappit cutter set from FMM.
The cake is covered with a mix of fondant and marzipan (70 % fondant which I have mixed with 30 % marzipan). I think that mixing it, taste better than using only fondant. However, I never add more than approx. 30% marzipan because I have experienced that the cake sweats if you add more than 30-50% marzipan.
I have piped the royal icing pearl border with a round piping tip. It is my first royal icing pearl border and I think that came out quite alright 🙂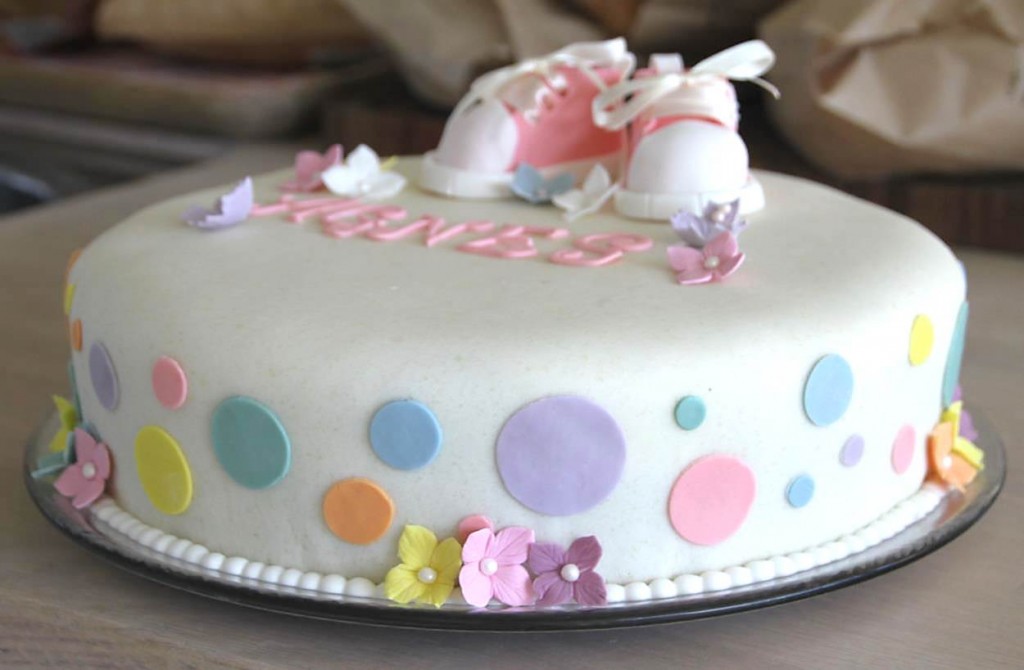 CAKE & FILLING
The cake is a chocolate cake with a mousse filling. I have made a 2 layer cake: One of the fillings is a raspberry mousse and the other filling is chocolate ganache. I have frosted the sides and the top of the cake with chocolate ganache. Then, I knead the fondant and marzipan together before I cover the cake.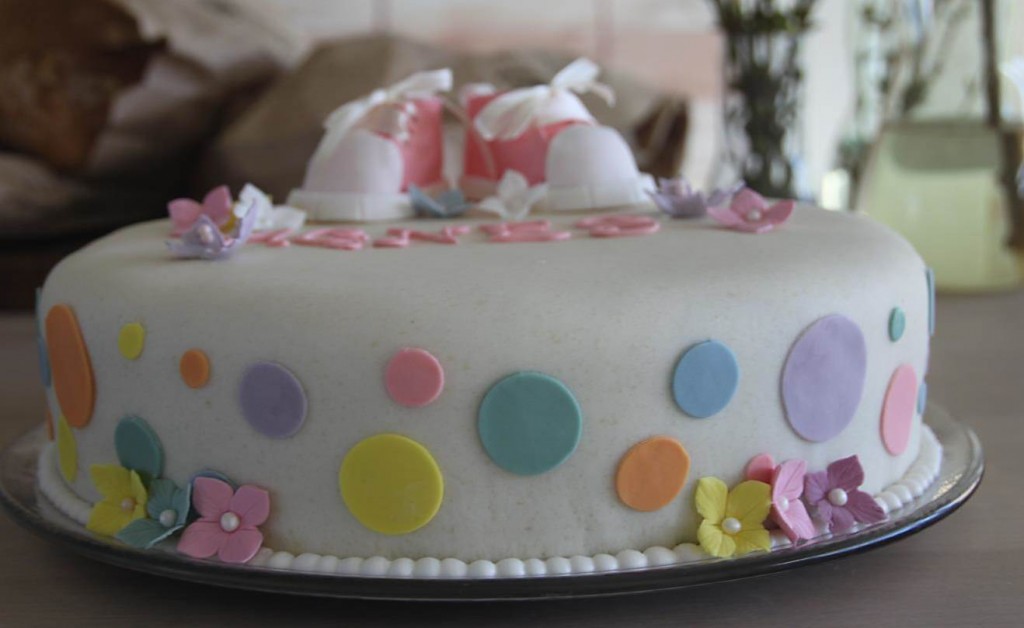 Have you ever tried to make fondant shoes? Did you find it difficult and what did you do with the shoe laces? Would love to hear your cake experiences – let's get in touch 🙂